Writer: Tholani Alli * Blog: AfricanCultureBlog * Contact: africancultureblog@gmail.com * Languages: Zul/Swa/Lin/Yor/Hau/Bam/Eng/Fre * Proverb: Egyagaza omubi; omulugi takimanya (Luganda) 'What makes the ugly person; the beautiful one will never know' * Thank You!
**********
Recent Articles: * 100 Afrocentric Londoners Can Look Forward to in July 2022 ** Top 5 Apps Financially Supporting and Building Black British Communities (2022) ** 50 Africa-Related Job Vacancies in London (July 2022) ** African Community in Newcastle (Tyne & Wear) : Demographic, Debates & Dilemmas (2022) ** 7 Black British Designers that Inspire & Teach Fashion (2022) ** 25 African Supperclubs & Food Joints to Check out in London (July 2022) ** 100 African Tailors & Seamstresses in London ** 15 Traiteurs Africains à Paris pour vos réceptions, cocktail, marriage ** 7 Traiteurs BBQ Afro à Londres : (Hautement Recommandés). Anything else > africancultureblog@gmail.com
**********
Moving those that just design to the side; we are also inspired by those that teach and educate our community every single time a design is produced. And that is exactly what Black British UK based entrepreneurs like Tadii G and Juliet Uzor are doing to motivate, energise and tutor willing viewers. Little did they know at the beginning that their accounts would take off and become part of a burgeoning community of designers carving out space not only to showcase their talent but pass on nuggets of wisdom from the gifted minds and hands they have been blessed with.
**********
**********
Blessing Adachukwu _ House of Ada
YouTube: /HouseOfAda * Insta: /HouseOfAdaa * Personal: /BlessingAdachukwu
Handmade in London, Blessing Adachuckwu who is also a personal growth and development tips lifestyle entrepreneur makes garments creator. She teaches how to cut and sow garments for children; sell on Etsy and up cycling old garments and dresses offer a selection of inspirational and powerful decorative and/or practical ideas made with African wax prints.

Kap sleeve dresses, Kufi hats, Sowing long bag handles, Crop top cutting and stitching, DIY no zip cushion covers and more; Blessing lives by the meaning of her name literally. And her growing audience can testify. Her expertise runs the gamut of making regular household clothing from african fabric clear, easy and understandable for beginners in sewing. Blessing is a trusted expert within her community and her videos reach the exat audiences she seeks to serve. If you aspire to cut or sow clothes; she must be in your book.

"In 2022, I'm hoping to make more quality content. The feedback that I received from my first videos showed me how I needed to improve and what I needed to do… Initially I was making things that I thought others would want and like (whilst building my brand) but have realised that It is my unique difference that defines me and that my clients/viewers want from me that they cannot elsewhere." (Source: Learn from my mistakes // The REASONS WHY MY READY TO WEAR FASHION BUSINESS FAILED (Paraphrased)
**********
**********
Narsh Henckel _ Narsh's Art
YouTube: /NarshsArt * Insta: /NarshHenckelArt * FB: /NarshHenckelArt
Right! What are the best fabrics and paints and how on earth do you draw on them? Well. Narsh has been painting on clothing for more than a few years now. Added to that, her hand made cards, earrings, and pop up tornados and earthquake pieces will certainly raise an eyebrow or too at the very least as to her curious yet intriguing methods used to create her designs.
Turning toilet rolls into bracelets, geometric paper cut wearable sculptural assemblages and handmade paintings featured at exhibitions and saatchi provokes attention and firmly warrants her a mention within this entry. The passionate educator and primary school teacher of Trinidadian heritage is drawn to colour and flamboyance yet contrastingly craves the meditative calm resulting in 'surrendering to the rules' of geometry.
**********
**********
Tadii G _ Svosva
Insta: Tadii.G * Site: tadiig.co.uk * Brand: Svosva * Insta: Svosva * YouTube: /TadiiG
Tadii quite simply put is all about transparency, smiles, and taking you on a journey whilst managing a sizeable yet growing clothing business. As founder of SVOSVA and of Zimbabwean heritage, Tadii and her brother manage the contemporary streetwear brand designed in the UK and made in Italy. Monthly and fortnightly, Tadii documents everything from how to send introductory emails, the real life highs and lows of influencer marketing, getting paid to post on YouTube, finding manufacturers and using adobe illustrator to what running a clothing brand entails from planning to sourcing to sale. "Try me and you will see" is what Svosva translates to in chiShona language and the UK based young achiever boldly announced her desire to where she wants the brand to be by her 30th birthday on her first video. Her mark on the profession is distinct, clear and growing. This approachable and hard working designer we wish a successful 2023 and beyond!


Review: "Starting up my own clothing brand and you have been easily the best I've seen on youtube by far. Down to earth, not negative, just easy to follow tips. Big up and much love."
**********
**********

Dionne Ible _ Qemamu Mosaics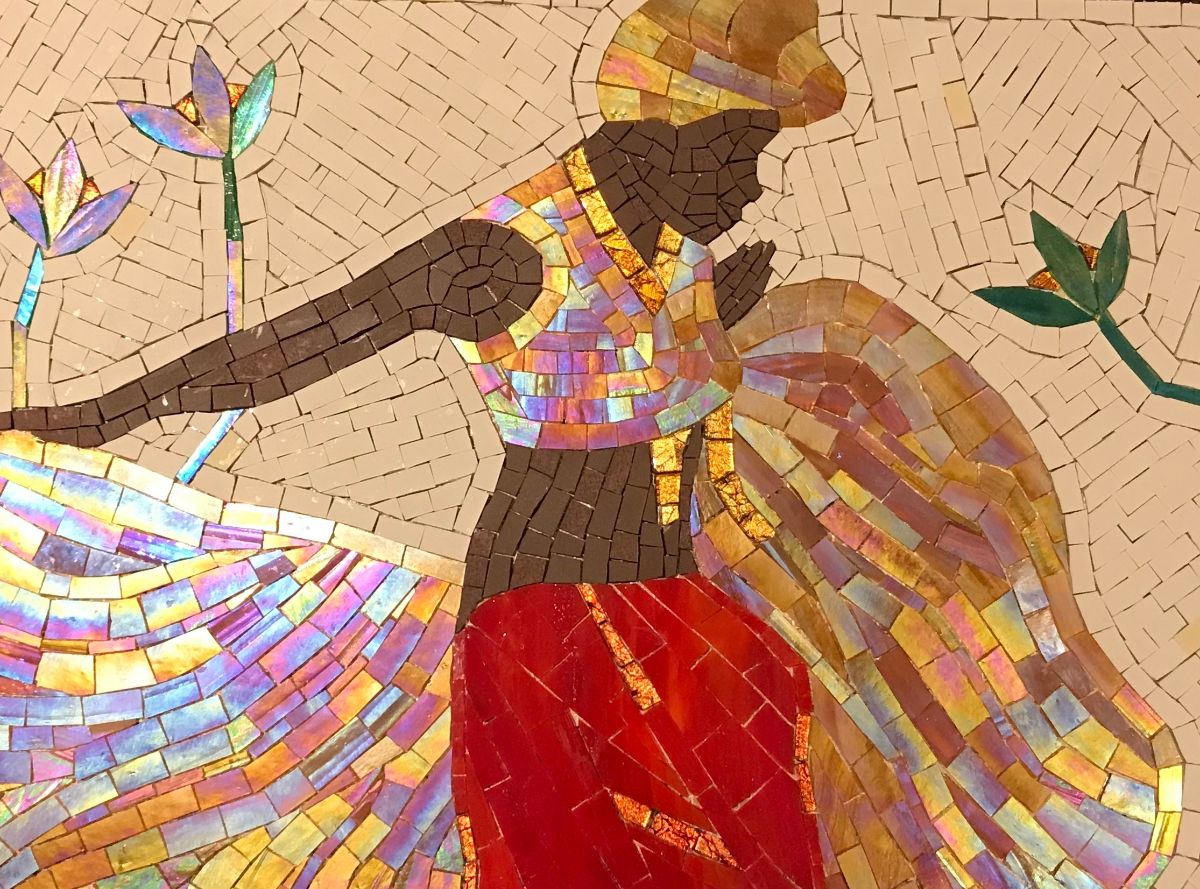 Insta: /QemamuMosaics * FB: /QemamuMosaics * Twitter: @QemamuMosaics * YouTube: /Qemamu-Mosaics * Etsy: /shop/QemamuMosaics
"My goals are to be inspirational especially to the YOUTH. I think Mosaics are such an amazing and ancient – that it would be a shame for them too miss out"
Dionne Ible is inspired by her African Roots and Heritage and guided by African ancestors to give mosaics another flavour of touch. Her Mosaics emphasise the telling of African tales. The former corporate and legal personality felt a calling from out of the mundane and formal towards an arty and ancestral experience; hence why she never looked back after committing to a mosaics course in Camden in 2002 and has thrived ever since. She is grateful of the literal knowledge passed down to her and is guided by African and Caribbean heritage and influence. She creates African Inspired mosaics for your home, office, garden, just about anywhere really.
**********
**********
Joie Dee _ SewJoie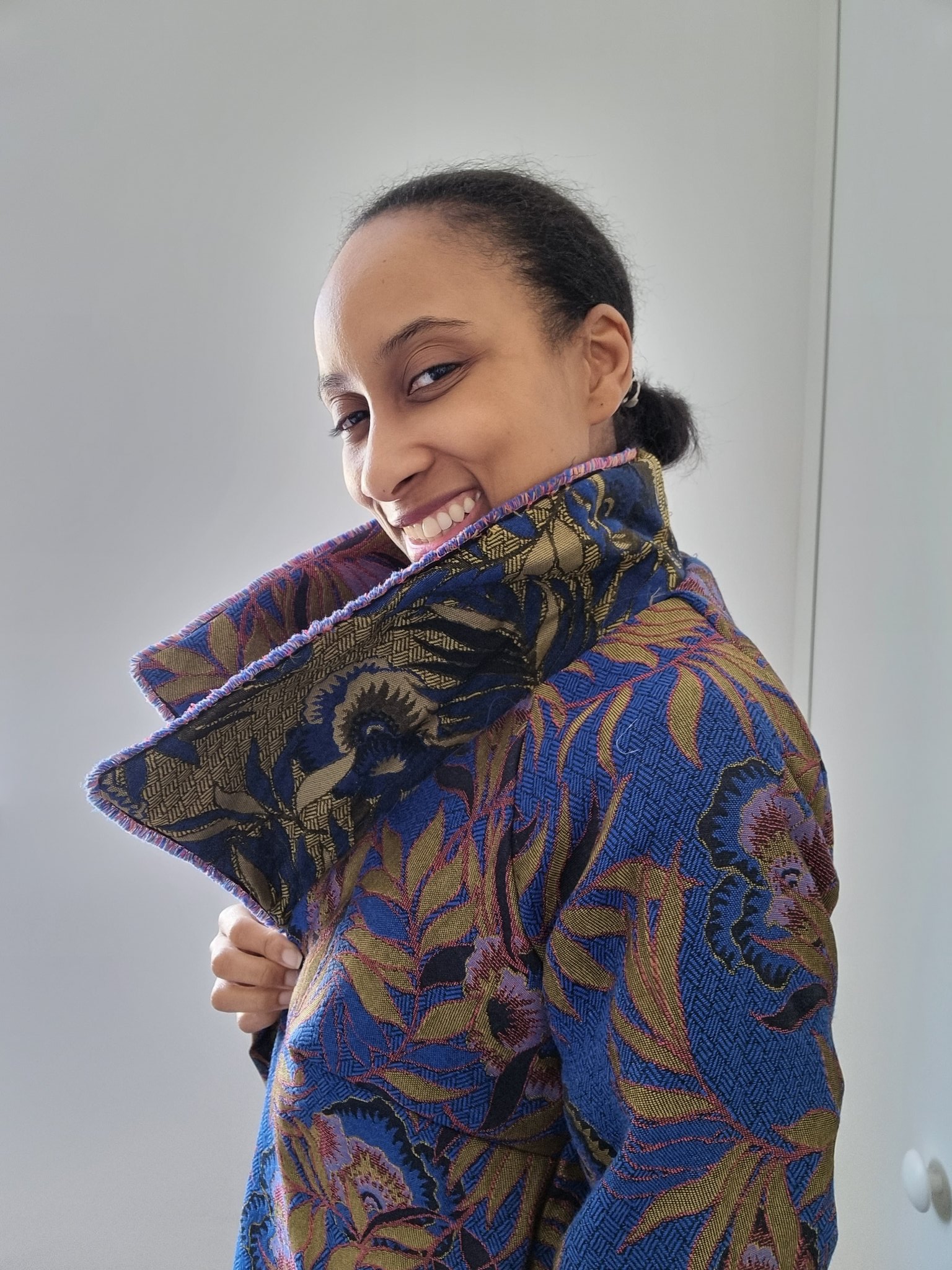 Twitter: /SewJoie * Insta: SewJoie * YouTube: /SewJoie
Sewing capsule wardrobes which adapt to our changing lifestyles is what Joanna or Joei is all about. Sewscriptiion unboxing, Sewing Challenges, Wearing double denim and handmade loungewear Joei is all about sewing frugal and being frugal with regards to loungewear and anything in a round the wardrobe. Speaking on frugal finds, sharing her knowledge of hands-on DIY creations, finding freebies, budgeting and impromptu fashion haul finds dominates her channel and growing audience. It is however the #MeMadeWardrobe that captivates my eyes amongst many others which Joanna's words offers her the perfect motive she needs flex cards and go crazy in the virtual shopping aisles. Joei always loves a good reason to shop and is very skilled and communicable in showcasing and teaching what initially can be viewed as a daunting task on making your own wardrobe. The self taught and self declared "novice" in the world of garment making has always enjoyed fashion and clothes as a creative outlet whilst working full time in the corporate world. Yet she remains motivated to share her journey with viewers across the M25 and beyond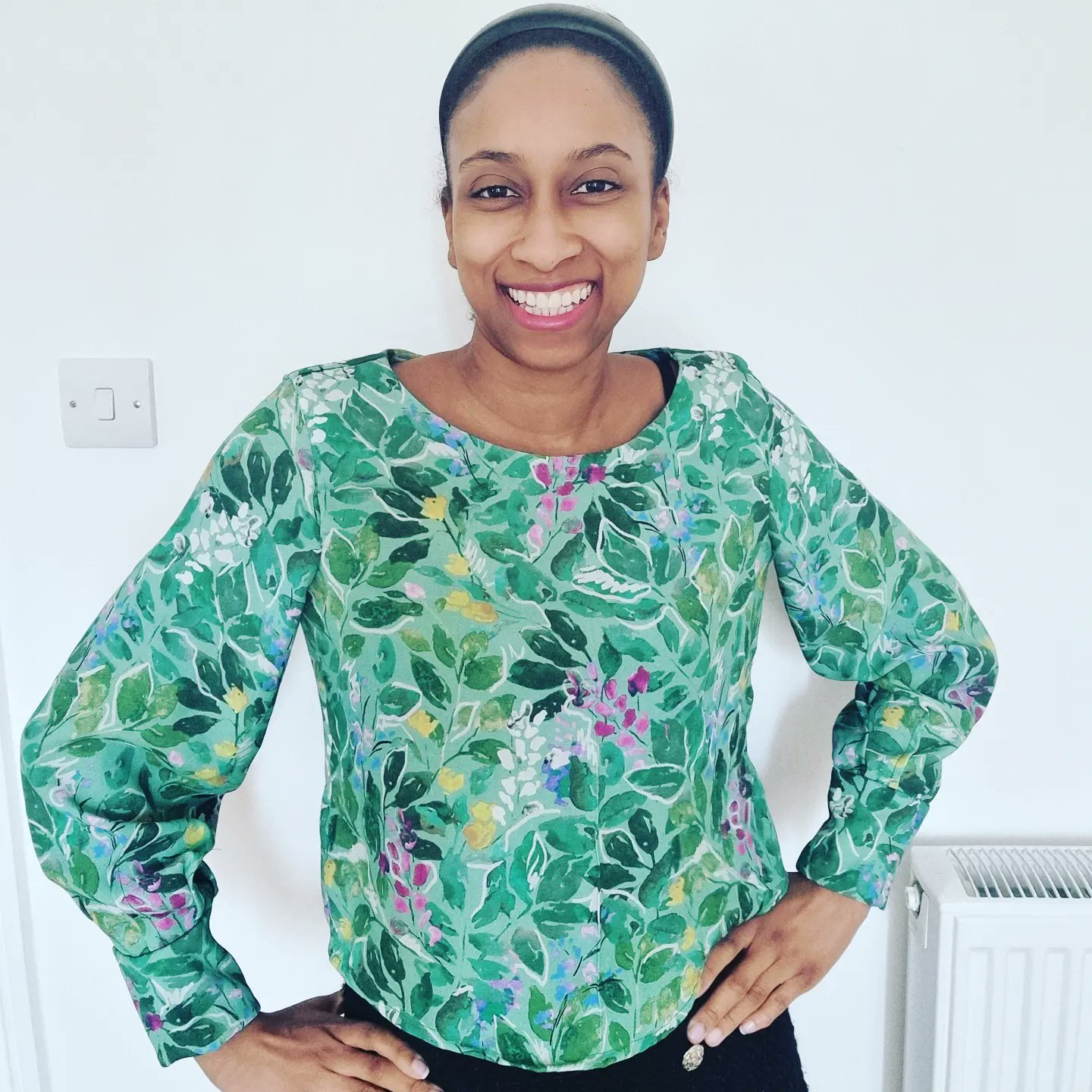 "As a way of motivation I thought it would be a good idea to document my sewing journey describing my experience and what skills I have learnt along the way. To start off with, I have decided to set myself a challenge as you will see from my videos" Joie Dee, Source: blogspot.
**********
**********
Priscilla Okpan _ Kim Dave
Site: kimdave.com * Insta: KimDaveDesigns * FB: /KimDaveDesigns * Twitter: /PriscillaOkpan * YouTube: /KimDaveVideos
Nigerian #designer Priscilla Okpan heads up KIM DAVE. One of the leading London based tutorial designers gives us nuggets on all things from smart ways of commanding alternative streams of income, setting up online workshops and how to create pleated circular skirts amongst others. From graduating from the University to Benin in Nigeria to completing her Bachelor's degree in Fashion Design; the digital content creator's 'ready to wear' clothing brand is equally matched by her vibrant yet detailed pattern-making and garment construction videos. Her designs and tutorials are super and she is a joy to watch. Priscilla's YouTube channel 'Kim Dave' was launched whilst in London fashion school and has grown exponentially since.


"I am a strong believer in working with people who understand the craft and are paid fairly too" Priscilla Okpan, Source: This is How I Created My New Clothing Collection
**********
**********

Juliet Uzor _ Sew So Natural
YouTube: /JulietUzorSewSoNatural * Insta: /JulietUzor_ * Twitter: /JulietUzor_
I don't know where to start with Juliet. I mean "You will be able to sow your own clothes by the end of this book" is actually the name of her book released this year in 2022. She bought her first sewing machine in 2013 and won the British Sewing Bee Competition in 2019. But as the title of this post reveals, Juliet is a talented craftswoman that loves also to teach.
Yes she is a freelance designer and sewing professional; yes she is a magazine columnist and yes just maybe might be one of the foremost widely known black British seamstresses in recent times but the primary school teacher turned full time 1-to-1 Diet by Cambridge Weight Plan also loves publishing written and video dressmaking lessons. She is a big fan of the jump suit and is fiercely motivated by wanting to teach and inspire people to sew beautiful pieces to suit their body types and styles. Boss!
**********
**********
Writer: Tholani Alli * Blog: AfricanCultureBlog * Contact: africancultureblog@gmail.com * Languages: Zul/Swa/Lin/Yor/Hau/Bam/Eng/Fre * Proverb: Egyagaza omubi; omulugi takimanya (Luganda) 'What makes the ugly person; the beautiful one will never know' * Thank You!
**********
Content Randoms for African Communities in London and Beyond! Community App Enthusiast currently addicted to Bloom Money! See: 100 Afrocentric Londoners Can Look Forward to in July 2022; 50 Africa-Related Job Vacancies in London (July 2022); 25 African Food Pop Ups and Supperclubs to Checkout in London (July 2022); 100 African Tailors & Seamstresses in London or 15 Traiteurs Africains à Paris pour vos réceptions, cocktail, marriage or 7 Traiteurs BBQ Afro à Londres : (Hautement Recommandés). Anything else > africancultureblog@gmail.com
**********